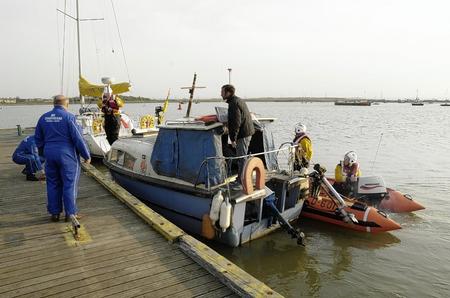 A A dopey sailor who thought he was cruising round the UK turned out to be circling the Isle of Sheppey - and didn't realise until he ran out of fuel.
A lifeboat was called to rescue the intrepid helmsman after his engine wound down off the Elmley Marshes.
It had taken him a day and a half to get there from Gillingham - a matter of a few miles away.
In addition to his tour of the 8-mile-wide island, the man, who has not been named, had also made a series of other unfortunate decisions.
Firstly, he bought the motor cruiser online, and it only had a 20-litre fuel tank and a 20 horse power engine - not designed for sea use.
He also had taken the "wrong" turn on the road map he was using.
And he had no provisions onboard.
The man was making his way to Southampton alone - with no navigation equipment.
Finally, he thought that because he could drive in his car to Southampton using a single tank of fuel, he only needed one tank of fuel for the vessel and he had a VHF radio, but did not know how to use it.
Do you know who the sailor is? E-mail us at kentonlinenews@thekmgroup.co.uk to let us know.
Lifeboat volunteer Tom Ware said: "Because he had no chart and he didn't even know what navigational charts were, his general principle was to keep the land on his right, except he didn't realise Sheppey was an Island.
"It took him a day and a half to get from Gillingham to where he ran out of fuel."
Coastguards, who met the man at Queenborough, advised him that engine sizes and therefore fuel consumption differs and the coast route was longer than the road distance in any case.
Coastguard Ian Goodwin said: "We passed on relevant safety advice and advised him that the best way to Southampton would be by train.
"However, he said he would get some fuel and get underway but asked us if he went left or right when he came out of the Swale."
It is unknown whether the man made it back to Southampton.