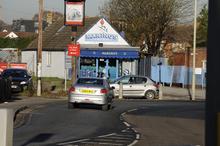 by Tricia Jamieson
A man suffered serious injuries in an accident close to where two people died three years ago.
The pedestrian was in Beaver Road, Ashford, when he was struck by a blue Vauxhall Cavalier at around 8.30pm last night near Marino's Fish Bar. He was taken to a London hospital. His age is not known.
Police are appealing for anyone with information to contact the serious collision investigation unit on 01622 798538.
Two people were killed and a young girl left severely disabled in a hit and run in the same road in September, 2009.
Mother-of-three Denise Head, 49, and Brian Moon, 67, were walking home after a night out at a social club.
They and Rosie Brown, then 12, were mowed down by a car driven by Stefan Stanko, a Slovakian who did not stop. Two other people were also injured.
Stanko, now 26, who had been drinking, was later arrested and was jailed for 10 years.
He was told by a judge he had caused "carnage" when he drove while almost twice the legal limit and despite warnings from friends and their efforts to hide his car keys.
Stanko admitted causing death by dangerous driving, driving with excess alcohol and failing to stop after an accident.
Mrs Head, of Little Knoll, South Ashford, and Mr Moon, of Farrow Court, Stanhope, were in a group of family and friends walking home just after midnight from the Ashford International Sports and Social Club.
Rosie was left severely disabled. She is in a wheelchair and unable to speak and spends time in a specialist unit and at her family home in Monkton Close, Stanhope.