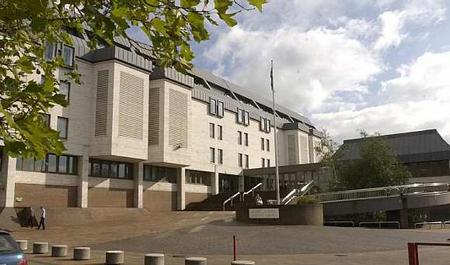 A man who was under attack from a dog bit the animal back, a court was told.
The Staffordshire bull terrier had clamped its jaw on Steven Laden's arm during a vicious assault in Chatham in which Mr Laden was also allegedly attacked with bottles, fists and feet.
The dog's owner, a teenager who cannot be identified for legal reasons, was said to have used the animal as a weapon against Mr Laden, who is known by the nickname Jockey and lives in Ashford.
Despite his own brave attempt, Mr Laden was only rescued from the Staff when a passer-by with experience of such dogs was able to prise open its jaw and release it from Mr Laden's leg.
A jury at Maidstone Crown Court was told Mr Laden suffered extensive bites to his arms and legs, as well as a slash to his right cheek which needed nine stitches and a gash to his left forearm which needed five stitches. His front teeth were also knocked out.
Nathan Giles, 20, of Seymour Road, Chatham; Anne Rossiter, 35, of Pagett Street, Gillingham; Vincent Keane, 38, of no fixed address; and Darren Elms, 22, of High Street, Chatham, all deny wounding Mr Laden with intent to cause him grievous bodily harm on December 15, 2010. They also deny an alternative charge of unlawful wounding.
Rossiter has also pleaded not guilty to wounding Mr Laden's girlfriend Isabella Boon with intent to cause grievous bodily harm on the same occasion. Rossiter also denies unlawful wounding.
Giles has further pleaded not guilty to intimidation of Mr Laden on December 28.
The dog owner, who was 15 at the time, has pleaded guilty to wounding Mr Laden with intent.
"he, to try and get the dog off, was biting it back…" – prosecutor danny robinson
Danny Robinson, prosecuting, said violence erupted at a block of bedsits in Luton Road after Mr Laden, who had gone there looking for drugs, made a comment about moving on in life and Rossiter "exploded".
She is alleged to have pushed him into the hallway, where he was then set upon by three or four men, and the dog.
"It is the prosecution case that these four defendants acted together, with a shared intention, using bottles, fists, feet and a dog as their weapons," explained Mr Robinson.
At one stage, Miss Boon, who had been allegedly punched by Rossiter, saw the dog clamped on Mr Laden as it bit his arm. "He, to try and get the dog off, was biting it back," added Mr Robinson.
Miss Boon tried to cover Mr Laden to stop the attack, he said, but was then allegedly smashed in the face with a bottle by Rossiter. Miss Boon later needed stitches to a cut lip.
The jury was told Laden did not see who any of his attackers were. "Miss Boon is the only witness who sees and names the people who attacked her and Mr Laden," said Mr Robinson.
The trial continues.