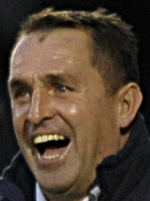 by Luke Cawdell
Martin Allen was thrilled to have seen his team return to winning ways at Priestfield after Tuesday's 2-0 win over Northampton.
The Gills, without a home win since November, took the points after Cody McDonald put them ahead early on before Myles Weston scored a well-taken second.
Gills boss Allen (pictured) said: "Both teams played really well in the conditions and we got the breaks and came away with the three points, so happy days.
"It wasn't easy for the supporters, of course. The ball was out of play a lot, there were lots of throw-ins, goal-kicks, misplaced passes and it needed a team effort and to wait for the breaks.
"When the breaks came and the moment of absolute brilliance from Myles Weston there was a massive sigh of relief from all the way around the stadium, including the dugout. Even on the pitch you could see it in the players.
"Anxiety, tension and nerves can set in at all levels in sport. It can happen at the top and to the very best, it's how it goes.
"We have been top of the league all this time and playing so well here at Priestfield and then, when you don't win, all people talk about and ask you is 'why this, why that?'. They find it hard to remember we just beat Southend away and beat Bristol Rovers away, averaging two points a game.
"The relief and the happiness from all our supporters and our players and to hear everyone singing 'we are top of the league' at the end was a great feeling because we have all worked hard to try and turn it around."
Northampton arrived at Priestfield sitting third and until Weston scored the second goal it was always tense. But the Gills defended well.
"They do care and that's the one thing you do know - they will all do their jobs," said Allen.
"Once we went ahead we played Deon Burton a bit deeper and pushed Weston up higher so we still had an attacking threat with his pace. Andy Frampton obviously had to play a bit deeper because of the threat of their big striker.
"In the last 20 we changed it again, going 4-1-4-1, so Frampton could protect us against two dangerous centre-forwards. We changed it again, taking Cody off and putting Weston up front, with his speed and, God bless him, he got in behind and made a brilliant finish.
"It was good to see Whelpdale come on and play really well and I am really pleased for him. Danny Kedwell came on as sub and did really well to hold the ball up and I put Charlie Allen on for the last few minutes, because he had a bit of a tough afternoon on Saturday, when he didn't play very well.
"So it was nice to try and involve all our squad and give them all a bit more confidence to come back in because we have some good players here and now of course we just keep pushing forward to get as many points as we can."
How did you think Gills performed? Comment below.