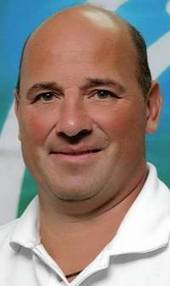 Former Kent cricket captain Mark Benson has quit the International Cricket Council's elite umpires' panel.
Benson, 51, has had health problems in recent years, culminating in his withdrawal from the Second Test between Australia and West Indies in December.
After an outstanding career for Kent, Benson (pictured right) turned his attention to umpiring and in 2006, his performances on the county circuit and in one-day internationals earned him a call-up to the elite squad.
He has umpired in 27 Tests and 72 one-day internationals and, in 2007, was chosen to officiate in the final of the inaugural ICC World Twenty20 final.
Benson's health has deteriorated in recent years and he has suffered from heart palpitations, high blood pressure and stomach problems.
He has also voiced his discontent with the new umpire review system.
Benson, who is married with two sons, is to return to county cricket umpiring this season and says he is looking forward to the start of the new campaign with as much enthusiasm as when he was playing.