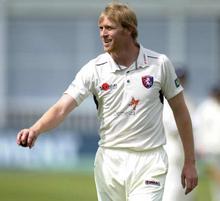 Mark Davies was named player-of-the-year at Kent County Cricket Club's end-of-season awards at the St Lawrence Ground on Friday night.
Sam Northeast's 1,359 runs earned him the batsman-of-the-year accolade, while Matt Coles with 74 wickets was bowler-of-the-year. James Tredwell's haul off catches saw him pick up the fielder-of-the-year award.
Skipper Rob Key was the Fitzgerald Jewellers one-day player-of-the-series.
Chief executive Jamie Clifford told guests it had been a year of progress for the club.
"On the field much improved fortunes in the county championship and CB40 have been enjoyed by all, although it was ultimately frustrating to fall short in both competitions," he said.
"Off the field we have seen the completion of much of the redevelopment work, and I know members and supporters have enjoyed using our wonderful new facilities.
"The support that has been shown this year in all weathers, home and away, by our members and supporters has been excellent."