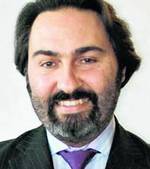 Health chiefs have announced that Mark Devlin will take over as chief executive of Medway NHS Foundation Trust.
Mr Devlin has worked in the NHS for the past 20 years and is the chief executive of Dartford and Gravesham NHS Trust.
Vernon Hull, chairman of Medway NHS Foundation Trust, which runs Medway Maritime Hospital, said: "We had a very strong field of candidates for the post of chief executive and I am very pleased to announce Mark's appointment and extend to him a warm welcome.
"Mark has a great deal of experience in the NHS in a wide variety of roles; he led one of the major teaching hospital divisions at the Royal Free Hampstead NHS Trust. He was also the deputy chief executive at North West London Hospitals prior to his appointment at Dartford and Gravesham NHS Trust.
"I'd also like to say thank you to Peter Coles, our interim chief executive, who has been with us since the beginning of November and who has ensured that this period of transition has run as smoothly as possible."
Mr Coles will remain in the interim post until Mr Devlin takes over in 2010.
Mr Devlin replaces Andrew Horne who left the trust in October after seven years in charge.