Gillingham manager Martin Allen knows that his side's return to the top of League 2 adds extra spice to any game they play.
And he's expecting Chesterfield to pull out all the stops on Saturday in a bid to knock Gills off top spot.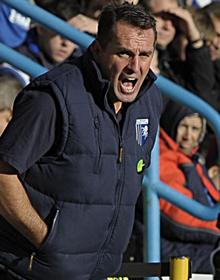 He said: "The fact we are top of the league now makes it an even more difficult game.
"Every tackle, every header and every moment of the game that they have any joy, their crowd will get off their feet and sing a little bit louder.
"We have all been there over the years when a top of the table team come into town. It is the one you want to take but we just prepare like we have for all our other games, right from the first day.
"We won't be talking about six-pointers, or records, or anything else but just working on our performance, our way of playing, our team shape and keeping all fit and well.
"We will then see what we can do. It probably sounds a bit boring but that's what it is like."