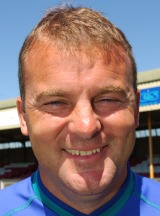 Development squad manager Mark Patterson drew special praise from first team boss Martin Allen at the weekend.
Allen saluted the work that had been done by the former Gillingham player, who is now instrumental in developing the club's up and coming young talents.
The Gills boss writing in his programme notes ahead of the Fleetwood game said: "We have taken a step back in time and worked our young players with military style type discipline, to work on their body strength.
"They have been long, hard sessions and very demanding for the young players.
"Next July we will be travelling to Le Touquet, in France, for our pre-season training camp and these players need to be fit, mentally and physically, to get on one of the mini-buses with the first team squad.
"The team performances recently have been excellent and you will see some of these boys without a shadow of a doubt, forcing their way into the first team.
"Mark Patterson's attitude has been spot on and he has embraced the work ethic that I believe is necessary to improve and develop young people."