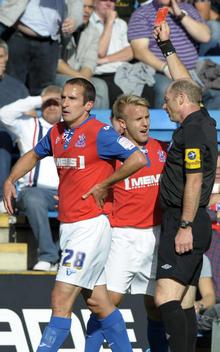 Danny Jackman's dismissal on Saturday was Gillingham's third sending-off this season but boss Martin Allen won't be losing any sleep over it.
Although a third red card in the opening two months of the season was a concern, he is still happy with the club's overall discipline.
He said: "The lads are fine. They've been great and I don't think there has been any bad discipline. But three sending-offs is something we have to look at.
He said: "I thought it was just going to be a yellow card but the referee has seen it differently and I am not going to criticise him. I will look at it but I don't think I am going to be waking up at 4am in the morning worrying about it.
"There have been no bookings for dissent, no bookings for arguing with the referee, no bookings for elbowing. I thought Jackman went for the ball and did his best. There is not a malicious bone in his body.
"Overall I think the discipline of the players at the club, during training, when we travel on the bus, the respect of the people at hotels, the conduct and behaviour of the players is absolutely spot-on and out on the field it is a fine line."