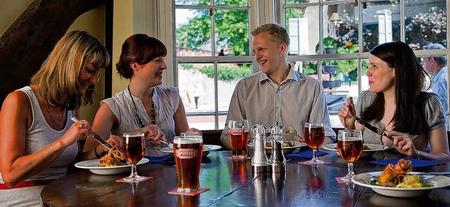 Lager and spice is always nice but real ale and chocolate usually raises a few eyebrows. Now everyone can put their tastebuds to the test at a beer and food night at the country's oldest brewer, writes Chris Price.
There are few simple pleasures in life – but one is a hearty meal with a decent pint. Shepherd Neame Visitor Centre in Faversham is once again running its beer and food evenings, starting with its Ale Samplers' Suppers.
"We like to use as much local produce and stuff in season as possible," said catering manager Sam Jeal, who has worked at the visitor centre for five years.
Guests on the Ale Samplers' Suppers are taken on an 80-minute brewery tour, followed by a tutored ale-tasting with their guide. They try a lager and a couple of ales before sitting down for a two-course seasonal supper with a Shepherd Neame pint of their choice.
"The atmosphere is very relaxed and friendly," said Sam. "This is a more informal night than the beer and food tasting evenings, where customers are asked to rate different aspects of how well the beers match the food served to them.
"The tour is very informative though. It tells all about the brewing process and the guides are around during dinner if anyone has any questions they want to ask afterwards."
The enviable task of trying all the beers to get the best match with each dish falls to Sam and her chef. So what is Sam's favourite tipple? She mused: "Now there is a question. Perhaps a nice Asahi (from Japan) with sushi. It complements well and the lager cleans the pallet. It is very refreshing."
As well as the monthly Ale Samplers' Suppers, the first of three spring Beer and Food Evenings is held next week at the visitor centre. This also features a brewery tour, with expert tuition on brewing. Then comes the beer tasting and a four-course dinner matched with specially-selected beers. Diners have the chance to savour seven distinct and flavoursome beers during the evening and the meal ends with a quiz.
The beer and food matchers at Sheps are very serious about getting their combinations right.
"The things that work best are fish dishes with lagers," said Sam. "Something like an Asahi or a Kingfisher also go very well with spicy dishes.
"With ales, you are looking at a stronger dish, like beef with a Spitfire. Of the ales, Whitstable Bay goes very well fish and Bishop's Finger goes very well with cheese.
"Our 1698 bottle-conditioned ale actually goes nicely with sweet items and a porter is lovely with chocolate." Sam added: "Whenever people come to do the testing, we say time and again that it is a very individual thing. It's all about how people perceive things taste.
"Some people are not sure about some combinations but there are others that everyone agrees we have hit the nail on the head with, such as Spitfire with beef. Some people don't believe a porter can go with chocolate but then a lot of the time people taste it expecting the worst and they actually agree."
The next Ale Samplers' Suppers take place on Friday, March 16, Friday, April 20, and Friday, May 18. Tickets £27.50. Beer and Food Evenings are scheduled for Saturday, March 17, Saturday, April 28, and Friday, May 25. Tickets £52.50. Call 01795 542016 or visit www.shepherdneame.co.uk