Defender Matt Fish believes his recent omission from the Gillingham starting line-up was a welcome tonic.
Fish had started all-but-one of Gillingham's games before being left on the bench during the first meeting with York, four games ago.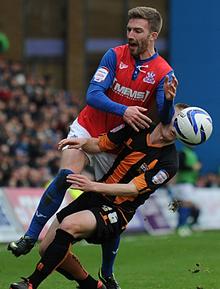 Since missing out, he has been re-instated back into the starting XI, including on Saturday at Bradford, where he helped the Gills to a 1-0 win.
Fish, 24, said: "I was doing well and then I had a bit of a dip and the gaffer left me out and it gave me a kick up the bum.
"I feel good and sharp and maybe a bit of tiredness may have been the reason for the dip in form but I feel I have been consistent, especially after last year. I feel I have come back and done well and just need to keep improving."
The Gills were back on the road on Saturday, after a disappointing defeat at home to Wycombe.
It was Gills' fifth defeat on home soil but Fish added: "It's hard to put your finger on it. As a team, maybe there is a bit of pressure at home, maybe it's the crowd.
"We are in a great position to get promoted and need to just keep doing what we are doing."