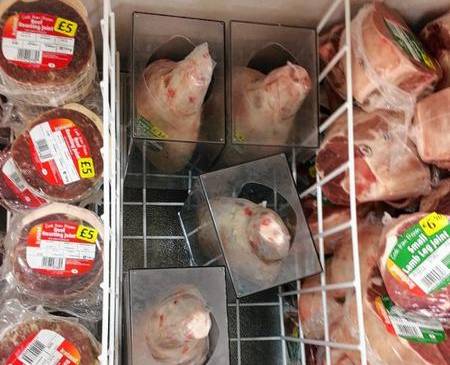 A businessmen has slammed the use of security boxes for frozen meat.
Dubbed "lamb saver boxes" by Iceland store bosses, they have been rolled out to stop meat thieves.
Herne Bay Motor Cycles boss Simon Wightman said he is "disgusted and saddened" by the lengths stores are having to go to protect their goods.
"what's next - an electric fence around the fish fingers?" – simon wightman
He spoke out after it emerged the town's store in Mortimer Street was even considering putting cheese in plastic security boxes.
The dad-of-three, from Greenhill, said: "I just think it is sad that people feel they have to steal from Iceland to survive. What's the world coming to? When I saw them I couldn't believe it.
"Someone trying to swipe something expensive from Marks & Spencer you can almost understand.
"But pinching meat from Iceland? What's next: an electric fence around the fish fingers?"
His partner Gemma Hogan said: "When I laughed at the boxes the woman at the checkout said they are even planning to put cheese in security boxes.
"Apparently so many people steal it. It's ridiculous. They stuff it down their trousers and run out."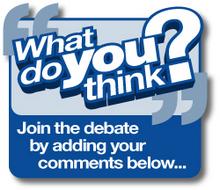 Mr Wightman added: "You can understand them wanting the boxes because even when their security guards catch someone they can't sell the cheese – it's been down someone's pants!"
Sheepish Iceland spokesman Amy Goble said: "The lamb saver boxes are used in several hundred Iceland stores and are designed to enhance the availability of the product for customers.
"The boxes are designed to serve as a defence mechanism to reduce theft and thereby ensure there is maximum availability for customers."
Herne Bay Chamber of Commerce chairman Michael Khoury described the move as "below the belt".
He said: "This is going too far. If that is their policy across hundreds of stores then there is something wrong with their sales team.
"People will go to the butcher instead. In any business you expect to lose around 7% with things dropped, stolen and so on. But security boxes around the ingredients for your roast? That is below the belt and going too far."
A spokeswoman for Iceland confirmed the chain had also been "trialling" security boxes for bacon and cheese in some of their UK stores.
Amy Globe said: "The trial was run across some of our UK stores but didn't prove as affective as the lamb saver boxes.
"Lamb was our most targeted item as it is one of the most costly and popular items in store.
"Therefore we have seen a dramatic reduction in theft since the boxes have been introduced.
"The security boxes weren't as noticibly affective on lesser items such as bacon and cheese therefore we are unable to confirm they will remain a permanent fixture in stores."
Iceland has 775 frozen food stores nationwide.