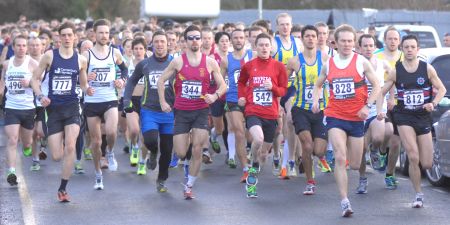 by Alex Hoad
Michael Coleman returned to the Barrett's Canterbury 10 field this year and to the top of the podium on Sunday morning.
Coleman made it three wins from three appearances in the race, the 2007 winner also leading from start-to-finish in 2011 before missing last year's race, won by Blackheath & Bromley's Andrew Rayner in 53.31, after a season plagued by illness and injury.
Nearly 800 runners of all standards braved strong winds to tackle a course which started in the streets near Chaucer Technology College and then moved out through lanes around Bridge, Patrixbourne and Bekesbourne before returning to the start.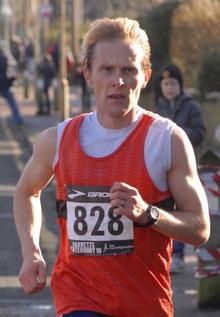 The winds, particularly a stiff headwind around miles seven and eight, and occasional muddy puddles in the off-road sections, saw times drop slightly from a year ago, although early morning heavy rain stopped shortly before the off.
Coleman (pictured right) finished in 55.01, 13 seconds ahead of Anthony Jackson, of Sittingbourne Striders, with Ben Cole, of Tonbridge AC, third a further six seconds back.
Coleman, who runs for Medway & Maidstone AC and South Kent Harriers, said: "I was disappointed with the time but considering the conditions and the fact I've been coming back from injury, it was all right."
The 34-year-old added: "It was my first 10-mile since March 2011 and it was a bit of a shock to the system.
"I am gradually working my mileage up each week, I've done 70 the past couple of weeks and hopefully I'll be back up to 100 soon."
The first veteran home, over-40 Jim Addison from Beckenham RC, was fifth overall in a time of 56.59 while Des O'Donnell (Tunbridge Wells Harriers, 1:01.35) was the top vet-50, in 1:01.35 and Trevor Edgley (Istead & Ifield Harriers, 1:08.56) was the leading vet-60.
Maria Heslop, of Paddock Wood AC, took the women's title after crossing the line in a time of 1:01.49 for 23rd place overall. Runner-up, also from Paddock Wood AC, was former winner Tina Oldershaw, who clocked 1:02,28. Both women are female vet-45s.
Jill Cliff (Deal Tri, 1:04,44 ) was the first female vet-35, with Janet Lenton (Orpington Road Runners, 1:19,04) first home in the vet-55 category. The race was organised by Invicta East Kent AC and sponsored by Barrett's Group, Ralph Noel & Sons, and NatWest Bank