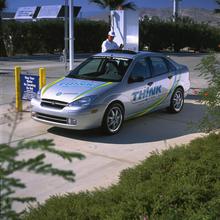 Ford, Nissan and Daimler, the company behind Mercedes-Benz, have all agreed to jointly develop hydrogen fuel cell technologies for production as soon as 2017.
The three-way agreement, which covers research into fuel cell stacks and associated systems, will initially see a common fuel cell powertrain developed for use by all three brands in otherwise completely differentiated cars.
The trio of mammoth companies also hope that their co-operation, which will stretch across three continents and potentially four brands thanks to Nissan's technology-sharing partnership with Renault, will help to standardise the type of fuelling systems needed to quickly develop a useful hydrogen refuelling infrastructure.
It is widely accepted that cost is the last major barrier between hydrogen-powered cars and high-volume sales, and by working together with equal investment from each party the aim is to spread the costs out over a larger scale of production, making fuel-cell electric vehicles (FCEVs) viable for a much lower price.
Together, Daimler, Ford and Nissan have more than 60 years of cumulative experience developing FCEVs. Their FCEVs have logged more than 10 million km in test drives around the world in customers' hands and as part of demonstration projects in diverse conditions.
In a press release Mercedes said: "The collaboration sends a clear signal to suppliers, policymakers and the industry to encourage further development of hydrogen refuelling stations and other infrastructure necessary to allow the vehicles to be mass-marketed."
"Fuel cell electric vehicles are the obvious next step to complement today's battery electric vehicles as our industry embraces more sustainable transportation," said Mitsuhiko Yamashita, Member of the Board of Directors and Executive Vice President of Nissan Motor Co., Ltd., supervising Research and Development.
"We look forward to a future where we can answer many customer needs by adding FCEVs on top of battery EVs within the zero-emission line-up."
"Working together will significantly help speed this technology to market at a more affordable cost to our customers," said Raj Nair, group vice president, Global Product Development, Ford Motor Company.
"We will all benefit from this relationship as the resulting solution will be better than any one company working alone."