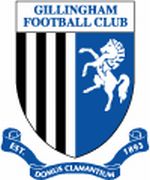 Midfielder Anton Robinson has joined the Gills on loan from Huddersfield for the rest of the season.
The 26-year-old has featured in just two games for the Yorkshire side this season.
He has been with Huddersfield for a year and a half, having previously played for Bournemouth.
Gills boss Martin Allen was pleased to have added Robinson to the squad but admitted several other deals had fallen through.
He said: "I have watched Anton for a long time through non-league football and seen him develop into a strong, athletic central midfielder.
"Over the past few days the chairman has made offers for a couple of other players. I thought they were good offers but of course good players are expensive.
"The deals have now been withdrawn and I think it is now important to concentrate and focus on the squad of players that we have in our pursuit of as many points as possible."