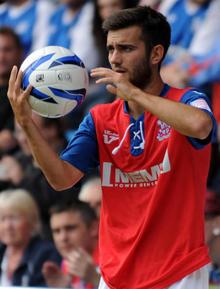 by Luke Cawdell
A whirlwind week saw Gills youngster Jack Payne clinch a loan deal with Championship side Peterborough United.
Payne signed on loan at Peterborough last Friday – days after a possible move to Crystal Palace fell through – but he admits he still has much to prove.
He needs to impress to earn himself a permanent deal with his new club or he may find himself back at Priestfield.
"I loved it at Gills but there is nothing to say I won't go back because I am only on loan and there is nothing set yet," said the 20-year-old from Cliffe.
"My loan finishes in May and I will be on my way back down anyway for the summer. I could be in pre-season as normal. We will just have to wait and see.
"If I do well, then maybe Peterborough will offer me something but if not, it could open the door for other places as well. It is a chance for me to play at this level and get games under my belt."
Payne gets his first chance to shine on Saturday when Peterborough host Burnley.
"It is a good move for me and to be jumping up two leagues is something I couldn't turn down," said Payne.
"I haven't played as many games as I would have liked this season at Gillingham and so this was just a move that suited both parties and it's an opportunity for me now.
"I just want to get going and play now for Peterborough. I have had a couple of training sessions and the boys have made me feel welcome and haven't left me out of anything. I just want to get on with it."
Do you think Payne will pull on a Gills shirt again? Have your say below.