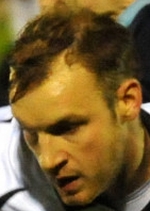 Faversham are only three points behind Ryman League Division 1 South leaders Maidstone after a 1-0 home win over promotion rivals Leatherhead on Tuesday night.
James Peacock, pictured, scored the winner for third-placed Town shortly before half-time.
Sittingbourne dropped out of the play-offs on goal difference following a 1-1 draw with Kent rivals Whitstable at Bourne Park.
Brickies, who fell a place to sixth, took the lead through midfielder Nick Treadwell late in the first half but Danny Williams equalised with 20 minutes left.
Ronnie Dolan scored a 74th-minute winner as Hythe beat Three Bridges 1-0 to draw level on points with Sittingbourne in seventh place.
Folkestone missed the chance to go fifth when Merstham clinched a 2-1 victory in injury-time.
Joe Holland gave Merstham the lead on 17 minutes but Invicta looked set to leave with a point when Josh Burchell equalised eight minutes from time before Adrian Stone won it for the hosts.