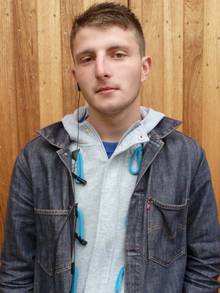 by Emma Grove
Tributes have been paid to a "caring and loving" teenager found dead on Minster beach.
The family of Lewis O'Neill-Smith, who had cerebral palsy, have spoken about how they believe he died in a tragic accident.
The 19-year-old, who lived with his grandparents David and Sandra O'Neill in Sunset Close, Eastchurch, moved to the Isle of Sheppey from London about 18 months ago and was a member of East Kent Mencap.
Mr O'Neill, 57, told how he had dropped off his grandson to catch the bus to go to a Mencap meeting at the De'Lacey Hall, in Sheerness, on the morning of Tuesday, November 6.
Lewis, pictured left, had not returned home as usual that evening and had left his mobile at home.
Although concerned, his grandparents assumed he was staying with his girlfriend.
When he had not come home on Wednesday morning, they contacted police who spent the day searching for him.
Lewis's body was found by a passer-by on the Thursday morning, near the Little Oyster. He had drowned.
"We think it might have been a tragic accident," said Mr O'Neill. "He was
"he was really family-orientated and happy-go-lucky. he trusted everyone and never saw bad in anyone..." – david o'neill
happy – there was nothing wrong with him."
He wonders if his grandson had missed the last bus and tried to make his own way home, getting stuck in the mud.
"We will wait for the inquest to get answers," he added. "The last thing he said to me was, 'I'll see you later granddad' and I reminded him to get his money out and he said 'alright my mate' and put his thumb up.
"He was really happy as he'd been with his girlfriend, who he met through Mencap, for about five months.
"Lew used to like to go to see his uncles, Ben and Sam O'Neill, at the weekend and watch a film and they would buy him a takeaway.
"He was really family-orientated and happy-go-lucky. He trusted everyone and never saw bad in anyone."
Lewis's mum Kelly O'Neill said her son had not long returned from a holiday to Cyprus with his dad Jay Smith, which he thoroughly enjoyed.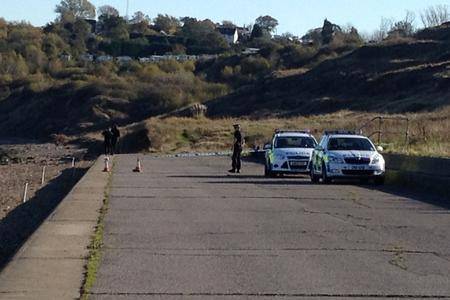 The 39-year-old, who called him Lewpops, added: "He was very loving – he had so much love to give.
"He was just a lovely boy and so caring – he cared about everyone, even people he didn't know.
"We are going to miss him deeply."
Mr O'Neill also wished to thank everyone who had supported the family since Lewis's death.
He praised the police, saying they had been wonderful, and also thanked the man who found his grandson's body as well as the person that discovered and handed in his wallet
Lewis's funeral will take place at Beckenham Crematorium and Cemetery on Thursday, November 29, at 1.30pm, followed by a wake at The Goldsmiths Arms, in Penge. All welcome. Inquiries to Albert Parr & Sons Ltd on 0208 650 2141.