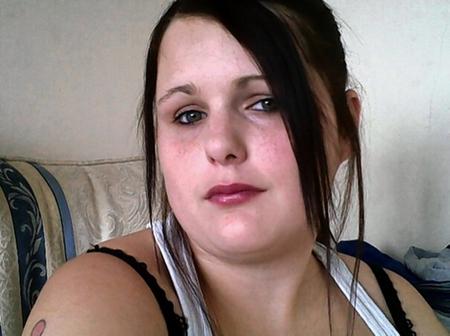 by Dan Bloom
A witness in a murder investigation became a suspect mid-way through her interview - when she gave police a false alibi, a court heard.
Officers slipped a note between them with the word "arrest?" on it as they spoke to Emma Smith - the girlfriend of 24-year-old car salesman Danai Muhammadi, jurors at Maidstone Crown Court were told.
Both are now accused of murdering Muhammadi's wife Melissa Crook, 20, their 15-month-old son Noah and father-in-law Mark, 50, in a fierce fire in the family home in Chatham Hill, Chatham.
It is alleged Smith "goaded" Muhammadi (pictured left) into lighting the fire after his marriage broke down and he paid friend Farhad Mahmud, a bouncer at Maidstone club Babylon, to help him.
DC Simon Marsden and DC Andy Jobes called Smith, 21, and invited her to a police station near her Coventry home two days after the blaze on Saturday, September 10.
Her boyfriend was already arrested and she said "I think I know what this is about".
But, to their surprise, the unemployed mum-of-one said Muhammadi had been with her in Coventry the whole night of the fatal fire - when they already knew he had been at Mahmud's flat in Fernhill Road, Maidstone.
DS Marsden said: "What Miss Smith was telling me and my colleague seemed to fly in the face of that. My grounds to suspect her involvement were considerably heightened.
"DC Jobes wrote on a scrap piece of paper, which he showed me under the table, 'Arrest?' which I nodded 'Yes' to.
"He then said 'I am arresting you on suspicion of conspiracy to commit murder'."
Smith immediately said she was confused and had been talking about the wrong weekend.
In interviews, she said over and over she went to Maidstone, but had no idea the fire happened.
Yet a recording emerged of her dialling 999 from a pay-as-you-go phone. She said there was a house on fire in "Chatnam".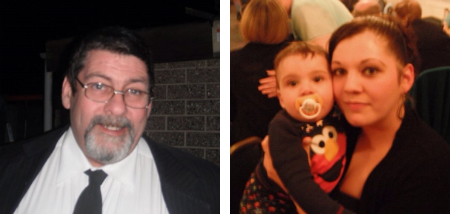 Smith told officers: "I got a paper Monday and I read it on the bus. As I was reading it I got a phone call from one of the detectives.
"I hadn't read the paper, I just saw the picture of Melissa. I was going to make a report about who I thought might have done it."
She said Muhammadi asked her at 3pm on Friday, September 9 if she would like to visit Kent, meet his friend Fred (Farhad Mahmud) and smoke some cannabis.
Before they left, she said, they visited City College Coventry where Muhammadi enrolled on a course to improve his English.
They arrived at Mahmud's flat where Muhammadi - known as Danny - played a guitar to Love Like This, by Natasha Bedingfield.
They took mobile phone pictures of them kissing and the court saw a video of Muhammadi singing and saying "Melissa lost".
Then he talked to Smith about visiting his toddler Noah, she added - just an hour before allegedly killing him.
Smith said she had a bath and put on denim shorts and a pink vest top. When she emerged, Muhammadi was chatting to Mahmud in Kurdish.
"They started laughing and I said 'what was that about'," she said. "He said 'I was just saying me and you was together' so I said 'why would you be laughing about it'.
"Danny put his shoes on, he said 'we'll be back in a minute, we've just got to pop to the shop'."
The fire broke out at 2.30am. Mahmud called Smith, she dialled 999 and called Muhammadi back.
She and Muhammadi drove back to Coventry late that night. She claimed her boyfriend had forgotten he had work in the morning.
Smith told detectives: "When I got in the car it smelt of petrol. I wouldn't say anything, I just opened the window.
"It weren't like very strong but I could just smell it."
On the drive home, she said, Muhammadi sang along to Craig David songs. She added: "I was like 'stop singing Danny, you don't know the words'."
DC Rocky Moan, interviewing her, said: "It would take a very cold and callous individual to do it then to sing along to songs."
Smith felt ill the next morning so went for a pregnancy test, she said, which found was not pregnant.
She told police she met Muhammadi at a bus stop on August 3 and began sleeping with him three days later.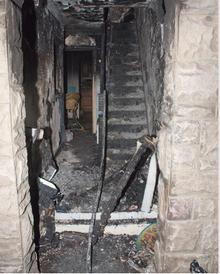 "I started just talking to him for about an hour and that and we exchanged numbers," she said. "Then I met up with him during the daytime on August 4 and I've seen him almost every day since.
"At first [the sex] was protected then a week and a half after it wasn't."
But she added: "We were just seeing each other, we weren't in a proper relationship."
When asked if there was still a relationship, she said "There ain't one now."
The court heard Muhammadi broke things off with Smith while he was in London with Melissa, a former pupil at Gillingham's Upbury Manor School, days before the fire.
Melissa's friends said she and Muhammadi signed their divorce papers, but Smith claimed they slept with each other.
Smith told police: "I said 'You are not going to play us off against each other'."
Smith claimed a string of nasty texts from her to Melissa were in fact written by Muhammadi.
She also claimed she received nasty messages from Muhammadi's Facebook account - but they were written by Melissa.
Muhammadi, 24, of Britannia Street, Coventry, Smith, 21, of Barley Lea, Coventry, and Mahmud, 35, of Fernhill Road, Maidstone, all deny three murders and two attempted murders.
The trial continues.
"Besotted lover pushed car salesman into killing three generations of his wife's family" - comprehensive murder trial coverage, only in today's Medway Messenger.