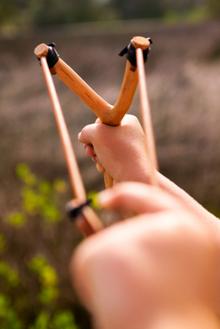 A motorist has been seriously injured after a catapult was allegedly fired at his eye.
The victim claims he was targeted by a man who jumped out of a van - before crouching down to get a better shot.
He was driving his van in Shellbank Lane, Bean, when he was passed a white Ford Transit being driven erratically.
The victim stopped and leant out of his window when the van pulled over at the side of the road.
He said somebody then jumped out of the vehicle, crouched down and fired an object from a catapult that hit his eye.
The victim was taken to Moorfields Eye Hospital after the attack, between 9am and 10am last Thursday.
Kent Police have just released details and are looking for witnesses.
DC Eleanor Hughes said: "I am seeking anyone with information that may identify the suspect, or who was in the area at the time, particularly if they saw a white Ford Transit van in the area."
Anyone with information is asked to phone 101, quoting reference XY/34791/12, or Kent Crimestoppers, anonymously, on 0800 555 111.