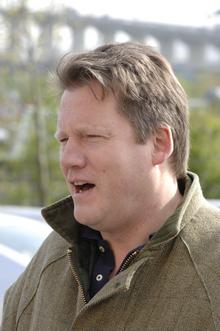 by political editor Paul Francis
Gravesham MP Adam Holloway quit his job as a ministerial aide as he joined a Conservative rebellion to back calls for a referendum on the European Union.
The MP was among four Kent backbenchers who joined what turned out to be the largest rebellion against any government after last night's five-hour debate in the Commons.
The others were Chatham and Aylesford's Tracey Crouch; Rochester and Strood's Mark Reckless and Sittingbourne and Sheppey's Gordon Henderson.
Mr Holloway, a ministerial bag carrier for the Europe minister David Lidington, told the Commons he could not go back on commitments he made to his constituents.
"I'm not now prepared to go back on my words to my constituents and I'm really staggered that loyal people like me have actually been put in this position. If Britain's future as an independent country is not a proper matter for a referendum, then I have absolutely no idea what is."
After the debate, Mr Holloway said he still supported Mr Cameron, saying: "I think the guy is doing a brilliant job. It is about my relationship with my constituents. Frankly, when the opportunity came up to vote on a non-binding motion on the issue, I would have felt pretty ridiculous not supporting it."
Tracey Crouch said: "The last referendum was before I was born and a whole generation of people haven't had their say."
While the vote was won comfortably, the size of the rebellion exposes the Conservative's vulnerability on a political fault line within the party that has dogged previous Prime Ministers.
READ Paul's blog for his take on the EU vote.