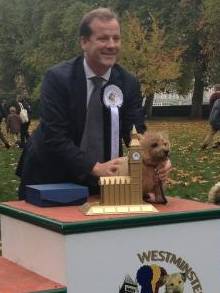 Parliamentary top dog Star Elphicke gave the Deal and Dover MP a sleepless night when she fell and got stuck down a cliff face close to his home.
Charlie Elphicke's four-year-old Norwich terrier, who won Westminster Dog of the Year last month, went missing on Sunday after being let out into the garden of the family home in St Margaret's.
After a fretful night searching in frosty conditions, she was discovered on the next morning by Mr Elphicke's wife Natalie.
Mr Elphicke, pictured left with Star, said: "She slid down a steep incline of about 15-20ft and got stuck there.
"She could have fallen further but there were lots of bushes and brambles that were in the way."
Star is the treasured pet of Mr Elphicke's children, aged 12 and six.
Mr Elphicke said: "I don't know what we would've done if she had been snatched or was gone for good.
"It's bad enough losing a dog anyway, but the Parliamentary dog""
A quiet dog by nature, Mr Elphicks said Star is "very polite".
Despite calling her during a frantic family search throughout the night and morning, she eventually barked - enabling Mrs Elphicke to find her and climb down to bring her back to safety.
"We were all beside ourselves and so relieved when we found her.
"When we got her back we spoiled her with lots of sausages and doggie treats."
Norwich terriers were given their name because their ears are supposed to be like the spire on Norwich Cathedral.
Star won the coveted title of Westminster Dog of the Year after battling it out among the MPs and their dogs.
She competed against retrievers, greyhounds and labradors, as well as many other breeds, at Victoria Tower Gardens, Westminster.
The competition is organised by the Dogs Trust and The Kennel Club and encourages an open dialogue on dog welfare issues.
Now she is home safe, Mr Elphicke said: "I'm sure Star will be more careful in future."