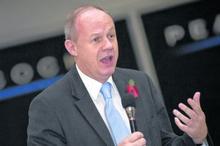 Immigration minister and Ashford MP Damian Green has admitted queues at Heathrow were unacceptably long at the weekend, blaming bad weather and poor flight timing.
He was forced to answer questions in the House of Commons today after major disruption at the airport.
Staff were seen giving out leaflets to travellers, blaming the Home Office for the discord.
Mr Green said changes will be made to improve delays at border control.
He told MPs: "We are establishing a new central control room for border force at Heathrow, we are putting in place mobile teams that can be deployed rapidly across the airport to deal with pressures and within weeks we will be imprementing new rostering and shift patterns."