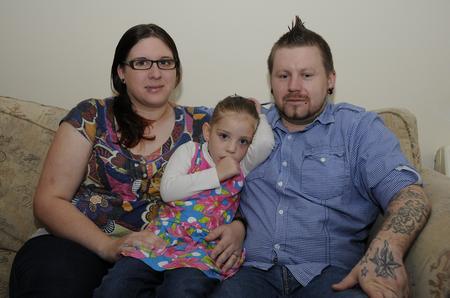 by Tim Collins
A pregnant woman whose daughter suffered an epileptic fit during a Christmas lights switch-on faced a barrage of verbal and physical abuse as she tried to lead her to safety.
Bea Raggett, 23, says she was kicked in the stomach as she attempted to flee a crush with four-year-old Jenna at the Ashford event.
She and partner Dan Jessop, 26, attended along with Jenna and two friends who also brought their children.
The couple, from South Ashford, said the atmosphere turned sour when Jenna, who suffers from epilepsy, began to experience the effects of the condition.
"one woman even started getting aggressive with me, telling me she had her kids there too and she decided to knee me in the stomach..." – bea raggett
The family tried to leave the area where they had been standing in the hope of finding somewhere to administer Jenna's medication if necessary.
Bea, who is 13 weeks pregnant, said: "It was incredibly scary and me and Dan were both really panicked.
"There was a really aggressive atmosphere at times and some people were barging and shoving each other.
"People could see that I was pregnant and Dan was shouting, telling them that Jenna was having a fit but some people were refusing to get out of the way.
"We were so worried if someone knocked the baby but we just wanted to get Jenna out of there.
"One woman even started getting aggressive with me, telling me she had her kids there too and she decided to knee me in the stomach."
She added: "People might say that it's not a suitable place for someone with epilepsy or for a pregnant woman but Jenna is not light-sensitive, as some epileptics can be, and her condition is under control with medication.
"She's been to fireworks events and been surrounding by masses of people, and that's not been an issue, but stressful situations can trigger more serious attacks."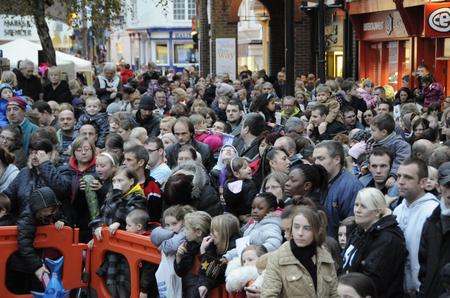 PC Stephen Noddings, from Kent Police, said: "The 'policing' of such events is the responsibility of the event organiser by providing marshals and stewards where required.
"Town centre constables were on duty as usual for a Saturday evening but not as part of a pre-planned security operation for the light switch-on.
"This year's event appears to have attracted a much larger crowd than anticipated and much larger than in previous years.
"One call was received by the force control room about the size of the crowd but no specific incidents were reported to police."
Cllr Graham Galpin, Ashford Borough Council's lead member for economic development, said: "I am aware of a small number of incidents that were raised by members of the public in relation to crowd control.
"We had the police in attendance and all relevant safety procedures were in place.
"We are very disappointed that some inconsiderate people took it upon themselves to be disruptive and ruin a hugely popular and successful event for others, including young families.
"We regret that people experienced anti-social behaviour and we hope that those who are reported to have carried out these mindless acts stay away if they have nothing constructive to bring to a family event."