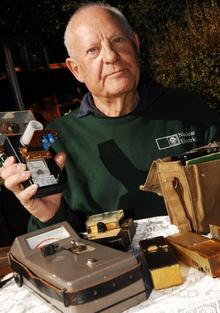 by Danny Boyle
dboyle@thekmgroup.co.uk
Mystery surrounds sky-high radiation levels recorded in Gravesham by a retired nuclear engineer.
David Strudwick, who has 30 years' experience in the industry, has been left "flabbergasted" by the readings in his Vigo garden.
The 75-year-old was carrying out a routine test with one of his Geiger counters, which detect radiation, when the dial "went crazy" and rocketed to the highest level.
He claims to have taken a number of readings at up to 40 milli-Sieverts. The Government has set the public dose at one milli-Sievert over a year.
The Environment Agency does not dispute Mr Strudwick's readings – but claims they were caused by a radon washout, which it describes as a "well-known natural phenomenon".
However, Mr Strudwick claims this is not possible and believes he recorded some sort of nuclear fallout, which the agency denies.
Mr Strudwick, who has lived with his wife in The Coach Drive for 32 years, has suffered what he believes are radiation burns on his hands, arm and ankle – which he claims could only have been caused by radioactive material.
He said: "The levels I recorded absolutely flabbergasted me. In all my years, I never thought I would see radiation of this kind outside a nuclear reactor.
"If radiation of this sort was recorded inside a nuclear establishment, all the sirens would be going and the building evacuated."
Environment Agency radiation officers visited Mr Strudwick to discuss his findings, concluding he had experienced a localised natural event.
They said the Radiation Incident Monitoring Network system, set up after the Chernobyl nuclear disaster, did not pick up anything other than normal background radiation at monitoring stations in Gravesend or elsewhere.
A spokesman said it is satisfied there was "no widespread source of man-made radiation attributable to any event at a civil or military nuclear establishment in the UK or abroad".