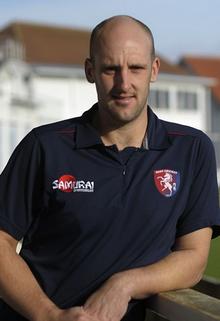 by Alex Hoad
James Tredwell said he hopes to be able to keep the club moving forward after accepting his "dream" appointment as captain of Kent.
The 30-year-old spinner from New Romney (pictured) said he was "hugely proud" of his appointment after 12 years with the club but admitted it was "slightly daunting" to follow in the footsteps of Rob Key.
He said: "It's a challenge but it's the next step in my career and something you dream about. Hopefully, I can do it justice and keep moving forward which is the direction we're moving in.
"I'll sit down with Jimmy Adams over the next fortnight and really hammer some stuff out. It's always nice that people think you have got something in terms of leadership.
"I'm going to grow into the role. I'm not overly-interested in sitting too much in the boardroom. I'll have to be involved to a certain degree but finances and things... I'd like to be more on the playing side of things.
"I'm going to speak to the guys I've played under, Rob, Matthew Fleming and David Fulton. They were at the helm during the formative years of my career and I'm sure a lot of what they did will come out in the way I do things.
"They are fine leaders and it's natural you pick up what other people do and bring it into your own style.
"I've captained throughout my career at various points, through the age groups and into the second team and a one-day game for Kent against Surrey, which we won."
Tredwell hopes the captaincy will bring the best out of him, despite Key's admission that it probably limited his own international chances.
He said: "Of course you have concerns about what effect it will have but I see it as a step forward. Obviously, I still have ambitions to play at the next level."
Tredwell, who has played one Test and nine ODIs for England, admitted one of the biggest decisions will be his vice-captain, adding: "There are lots of senior guys and some younger players who we might look to blood into a leadership role."
Do you think Tredwell will prove to be a good choice as Kent captain? Have your say below.