by Andy Gray

Kent's first elected Police Commissioner has added three new big-money recruits to her team.
Ann Barnes announced two "special advisers" have been snapped up on six-month contracts worth £35,400 each – 52% more than a policeman's annual starting salary.
The posts have taken up by Cranbrook businessman Howard Cox and Peter Carroll, who was Lib Dem parliamentary candidate for Maidstone and the Weald in 2010.
Both helped mastermind Mrs Barnes's election as commissioner.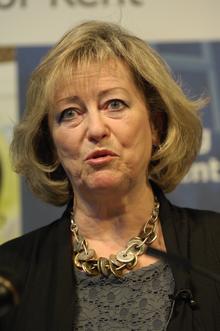 The external consultants will train staff, which she claimed will be cheaper than sending new recruits on courses.
Mrs Barnes, pictured left, said: "This is an enormous task and I require a team of people to help me deliver that manifesto.
"I am acutely aware of the need to spend every pound of public money wisely, particularly in these times of austerity."
The role of commissioner and her team replaces 17 members of the now disbanded Kent Police Authority.
Mrs Barnes was voted in last month in an election that attracted a turnout of just 16.3%.
She said the move from Kent Police Authority to independent commissioner left an underspend of £375,000, which she said will be used to strengthen her 10-strong team.
Another new addition, Tim Thompson, has signed for an initial seven-month period as policy and performance adviser at a cost of £18,200.
Mr Thompson served with the Kent Police Authority with Mrs Barnes, monitoring crime plans and force performance.
She said she also planned to use part of her £85,000 annual yearly salary to part-fund a Youth Commissioner post.
Mrs Barnes received £29,234 as chairman of the disbanded Kent Police AuthoritY.