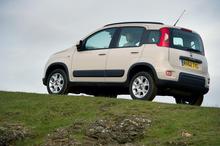 Fiat has taken the wraps off the eagerly-awaited 2013 Panda 4x4 and an off-road capable 'Trekking' two-wheel drive model with specially adapted traction control.
The Panda 4x4 is the latest in a line of much-loved and respected four-wheel-drive superminis from Fiat, and uses similar technology to the model that went before it. A `torque on demand' system sends 98% of the engine's power to the front wheels until they begin to slip, when an electronically-controlled coupling linking the two axles engages and sends power to the rear as well.
It is a completely automatic system that adjusts for the amount of grip the front wheels are finding. The more they struggle, the more power shifts to the rear wheels. An Electronic Locking Differential (ELD) can be switched on manually to ensure that the wheels with the most grip get more power.
The ELD interacts with the Panda's safety systems and can actively boost safety levels during acceleration and braking in low-grip conditions.
Fiat has also announced a Trekking two-wheel drive model, which is styled like the Panda 4x4 and boats Traction+, making it a halfway-house between the regular Panda and the 4x4.
Traction+ uses the advanced hardware present on cars equipped with Electronic Stability Program (ESP) to brake spinning wheels and transmit torque to the wheels with better grip.
It can be activated by pressing a button on the dashboard at speeds of up to 18.6mph. By using special algorithms to control and manage the braking system, the control unit can simulate the behaviour of a limited-slip differential.
It rides on the same tyres as the 4x4 and has the same increased ground clearance, but costs significantly less making it a better option for those who don't need full four-wheel drive.
Both cars are on sale later this month, with either the turbocharged and brilliant 0.9-litre TwinAir petrol or the surprisingly gutsy 1.3-litre MultiJet 2 diesel. Prices have yet to be confirmed.