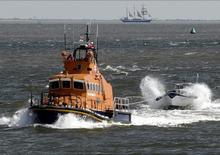 by Gemma Constable
A novice sailor needed help from lifeboat crew three times at the weekend after getting grounded in his new boat and then becoming lost in the Thames Estuary.
The man, who had no sea experience, had bought the 24ft boat Shannon Rose on Saturday and was planning to sail from Sheerness to Essex.
He first wound up aground at Grain, opposite Sheerness lifeboat station, on Saturday afternoon.
Both the inshore and all weather lifeboats attended and decided to leave the craft to await high water.
The all weather lifeboat then went to assist a broken down 20ft cruiser in the River Medway and towed it to Gillingham.
Then at 10.22pm, the crew was called to Shannon Rose again and waited until the craft refloated, but as it was unable to restart its engine it was towed to Queenborough harbour.
The following morning, the all weather lifeboat was called to its aid again after calls from the captain to say he was unsure of the craft's position, but was lost somewhere in the estuary.
Using the lifeboat's locating equipment, the crew found it off the north shore of Shoeburyness and towed the craft back to Queenborough.
The man, and his companion, were given advice by Coastguards.
He is the second man in recent months rescued by lifeboat crews after getting confused on the water.
In April, a man hit the headlines when he tried to sail round the Isle of Sheppey - thinking it was the UK.
Crews also attended reports of drifting inflatables off Sheerness at the weekend.
The rescues brought the Sheerness lifeboat launch total up to 50 so far this year.
Sheerness lifeboat coxswain Robin Castle said: "It is perhaps timely to remind people who take to the water in small inflatables to make sure they have them tethered to the shore in some way, as the offshore winds and tides can carry them out to sea quicker than they might think.
"Also recreational users, who go afloat, make sure they have the correct safety equipment and correct charts for the areas they intend to use."
Do you know who the sailor is? E-mail us at kentonlinenews@thekmgroup.co.uk to let us know.