A quiet corner of Kent has been transformed into the Mediterranean – with the county's very first olive grove.
Neil Davy and his wife Louise, neither of whom come from a farming background but share a love for sunnier climes and Tuscan cuisine, have planted 200 trees at Huggits Farm in Stone-in-Oxney.
They admit they are learning as they go along but hope the warmer weather, lower rainfall and less fertile soil on the Romney Marsh will provide perfect growing conditions for the olives, which will eventually be turned into luxury extra virgin olive oil.
Neil said: "To the best of our knowledge, no one in Kent has done this before. Lots of us have olive trees growing in pots on terraces and in gardens, but no one's actually done what we're doing.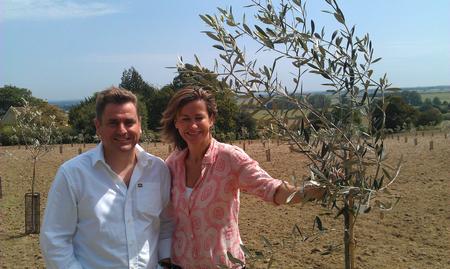 "We've looked at all the elements – the soils, the topology, the climate, the varieties of olive trees – but this is still a big risk and people might think we're barking mad. We're out to prove them wrong.
"We're so passionate about this project and it hasn't been overwhelming or daunting. We've had such a positive response – lots of people have wished us well and that just fuels the momentum and our excitement."
Neil and Louise have planted three varieties of olive tree – Frantoio, Leccino and Maurino – they think are most likely to bear fruit in the UK.
The three-year-old trees were imported from a grove in Italy and planted earlier this month.
Even with the weather on side, it could take at least four years for the trees to produce enough olives for the couple to make their first bottle of oil.