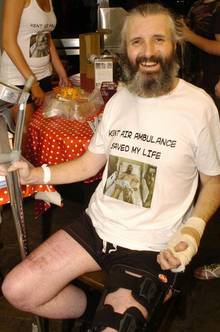 by Hayley Robinson
A pensioner has been banned from driving for the rest of his life after causing an accident that left a motorcyclist critically injured.
Skoda driver John Banks, 84, was towing a caravan along the A249 towards Sittingbourne when he turned into the Hucking u-turn junction.
But as he did, biker Ivor Presland (pictured left) and pillion passenger Lucy Foreman collided with the rear
offside of the caravan and were thrown into the Maidstone-bound carriageway.
Mr Presland, who suffered a punctured lung, crushed hand, broken ribs and a broken nose, was airlifted to the Royal London Hospital.
Doctors gave him just hours to live – but after seven weeks of treatment, the 53-year-old retuned to his home in Richmond Road, Gillingham.
Ms Foreman suffered a grazed left leg, but later needed a skin graft due to infection.
Banks, the father of former Murston ward councillor David Banks, was initially charged with dangerous driving.
But when he appeared before Maidstone Magistrates' Court, he pleaded guilty to a lesser charge of driving without due care and attention.
As well as being banned from driving, Banks, of Wolseley Avenue, Herne Bay, was also fined £500, ordered to pay a victim surcharge of £15 and told to pay costs of £500.
"i wanted him off the road. i didn't want him to still be out there potentially killing people or wounding others like he did me..." – crash victim ivor presland
Both sides of the A249 were closed while an investigation was carried out by the police's serious collision unit.
Bank was driving to meet his son and his two small grandchildren for a camping trip in Yalding when the accident happened at about 5pm on May 27 last year. He has not driven since.
Speaking on behalf of his father after the hearing, Mr Banks junior said: "When he got into court he was very, very nervous.
"He's never been to court or been in trouble with the police before.
"He's very remorseful it happened. He's had lots of sleepless nights since the accident.
"He didn't want to go out and hurt someone that day - his intentions were to go away for the weekend, not put two people in hospital. He never wanted that.
"It's a relief for him now it's all over. He says he goes out the front where his car used to be and he just looks at the driveway - he's lost his independence.
"If he wants to go to the shop or the doctors', he has to rely on my brother or find another way of getting around.
"He also can't just get in the car and drive down to see the family."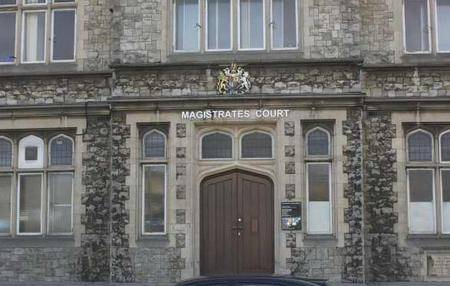 Mr Presland, who was in court with a group of biker friends, said he is happy with the sentence.
The dad-of-six said: "I felt it was right. I wanted him off the road. I didn't want him to still be out there potentially killing people or wounding others like he did me.
"My leg is still broken and I'm still on crutches 18 months after the accident.
"I've got to have another operation on my leg and another couple of operations on my left hand.
"Hopefully I'll be able to ride a motorbike again one day."