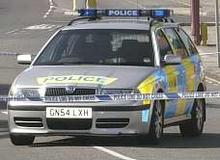 by Rachel Hovenden
A pensioner was knocked into the road leaving her with broken bones when a thief pulled off her handbag containing £360.
The 69-year-old woman, whose bag was hung on her shoulder and across her body, suffered two fractures to her pelvis and a broken left collar bone in the attack on Friday (March 16) outside the Imperial Retail Park in Thames Way, Gravesend, near the B&Q sign.
The force used to grab her bag made her fall into the road.
An elderly couple and an off-duty Metropolitan Police community support officer, who was driving past the scene, stopped to help.
The thief made off with her bag and purse and the pensioner said he ran towards Pizza Hut.
The suspect is described as white, with a dark hooded top.
The woman was taken to Darent Valley Hospital for treatment.

Detective Constable Claire Hartill said: "This was a particularly callous attack on an older lady which has left her extremely shaken and upset. Anyone who saw the incident or who may have any information about the lady's assailant should get in touch with us."

Anyone with information can contact Kent Police on 101 or Kent Crimestoppers anonymously on 0800 555 111.
Did you see what happened? Or are you a relative or friend of the victim? If so please call the news desk on 01474 564327.