A pensioner who was stopped driving on the wrong side of a motorway after a 19-hour drive has insisted she WASN'T lost.
Maureen Darvell, of The Warren, Brabourne Lees, drove against traffic in the fast lane of the A303 and M3 for seven miles before police pulled her over near Basingstoke.
On realising her mistake, the 83-year-old former dance teacher said she had been looking for a gap in the central reservation so she could cross over.
Folkestone Magistrates' Court heard how the great-grandmother had set off on the 180-mile trip from Ashford to Bristol for a family wedding at 9am on September 8 last year.
The trip in her blue 1997 Nissan Micra should have taken three-and-a-half hours, but after taking the wrong turn off the M25, she ended up heading towards Bournemouth.
It was only as she neared the town on the south coast that she realised her mistake and turned round before stopping for coffee at Popham Services on the A303 in Hampshire.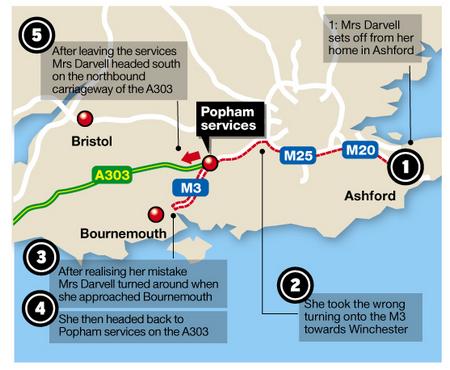 "I wasn't actually lost," she said. "I had gone down the wrong road but I just thought 'it doesn't matter, I've got all day' and turned off.
"I went into a tea place and had a cup of coffee. When I came out I thought it was a two-way road and thought I could cross over.
"Then I realised I was meant to be on the other side so I stopped and pootled along, waiting to get on to the other side, and the police stopped me and helped me across. I didn't cause an accident or hurt anybody."
The court heard that she left the service station at 3.30am and had driven back down the same carriageway, passing cars in the fast lane, before joining the M3 and heading north.
She was stopped by police at junction 6 for Basingstoke, still around 80 miles from her destination.
Neil Sweeney, prosecuting, said the police had received lots of calls from other drivers about the slow-moving car.
"i realised i was meant to be on the other side so i stopped and pootled along" – maureen darvell
Former ballet dancer Mrs Darvell, who used to run a stage and dance school in Brabourne Lees, spent the night at a Travelodge before her eldest son Paul, 57, picked her up to drive her home the next day.
Her worried family had called the police when she had not arrived at the wedding.
Mrs Darvell said: "He turned up quite early the next morning and I flung my arms around him and said 'boy am I glad to see you'.
"I've been on the roads for 50 years and I've never had an accident, but when I got home I decided that I'm not going to do any more long journeys."
Mrs Darvell, who suffers from rheumatoid arthritis, was banned from driving for 15 months and will have to retake her driving test. She was also fined £100 with £85 costs and a £15 victim surcharge.
She said: "What is difficult now is I'm the local taxi service round here if anyone wants to go to the doctors.
"I can still walk up to the shop and living on my own I don't need all that much anyway, and I've got lots of friends."