Covered in her own faeces and infested with maggots, this is how Ruby the dog was left by her owner.
Julie Walker, 48, was found guilty of six animal cruelty charges after leaving the 12-year-old akita lying in her garden.
She was convicted in her absence of causing unnecessary suffering at Medway Magistrates' Court earlier this month.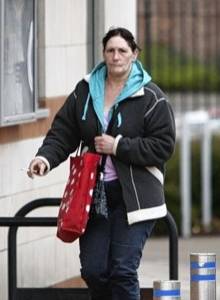 The court heard how the akita - which was later put down - was found covered in its own waste.
RSPCA Inspector Caroline Doe said the white dog was in a worse condition than any of the other thousands of cases she had dealt with.
After finding her guilty of all charges, magistrates issued a warrant for Walker's arrest.
She turned up at Medway police station on Wednesday and was taken into custody.
During the sentencing hearing, she tried to claim she knew nothing about her trial and asked for the case to reopened - but the court clerk found a fax Walker had sent to the court stating she would like the case to be adjourned.
Magistrates declined reopening her case and ruled the convictions still stood.
However, because she appeared via virtual technology, she could not be sentenced.
It was not possible for the bench and Walker to view the RSPCA video evidence, as the only television available in the court was being used for the virtual hearing.
Reluctantly, magistrates adjourned the case until Tuesday, April 24. Walker, of Priestfield Road, Gillingham, was granted unconditional bail.