A pilot has walked free after a plane crashed at Rochester Airport this afternoon.
The Cessna two-seater aircraft was left upside down on grass after the accident while landing at about midday.
Rochester Airport manager Kelvin Carr said the male pilot escaped without injury.
He added the Air Accidents Investigation Branch is investigating the crash.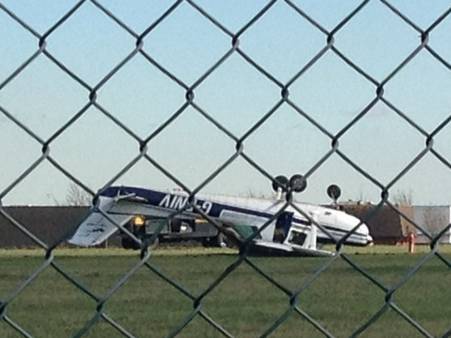 KentOnline reporter Martin Jefferies, who is at the airport, said there are skid marks in the grass runway.
He said: "The aircraft is resting on its wings with its wheels in the air.
"You can see where it has come in to land because the wheels have dug into the grass.
"There isn't much wind and the ground doesn't seem to be wet - quite how the plane has come to end up on its roof is unclear."
He added the airport is still open and a recovery vehicle is at the scene.
Rochester International Airport airport is in Maidstone Road, Rochester, and has two runways.
Did you see what happened? Phone the newsroom on 01634 227880.