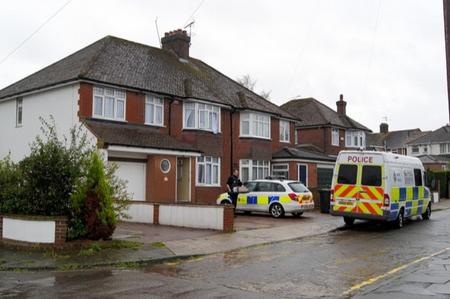 Police officers who stumbled across a drugs factory in Canterbury had to radio for help themselves – after they were overcome by cannabis fumes.
The trio were rushed to hospital suffering breathing problems after discovering the illicit operation in Milton Close.
They had been called to the quiet cul-de-sac after an early-morning brawl, but when they arrived the people fighting had disappeared.
One neighbour, who asked not to be named, said: "I could hear running, shrieking, smashing noises. I called the police – it wasn't really clear who was fighting, although there was quite a crowd."
It was only when officers spotted a front door swinging open on a nearby house that they discovered the drugs farm and 80 cannabis plants.
Police press officer Jane Walker said: "We were called at 4am to a report there was a disturbance – five people fighting – outside a property in Milton Close, Canterbury.
"Officers attended but those causing the disturbance had left the area, but an insecure house was located.
"The first three officers who went inside found a cannabis cultivation but then became unwell, suffering shortness of breath."
The three police officers affected were taken to the Kent and Canterbury Hospital and checked over, but there were no long-term effects and they were able to go home.
Fire crews were even called to check out the semi-detached home after an unknown chemical was found in the building.
Mrs Walker added: "Kent Fire and Rescue Service found a container with a strong smelling fertiliser inside so it is thought that the combination of the smell of cannabis plants and fertiliser led to the officers feeling unwell."
Police investigations are continuing. Anyone with information should call DC Richard Lown on 101.