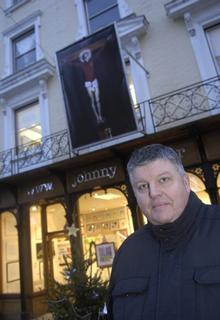 by Tricia Jamieson

Officers visited a Folkestone art gallery where a 7ft high painting of David Beckham on the cross is being displayed.

Two police community support officers called at John Cotter's gallery in Rendezvous Street on Sunday to say they had had a complaint that the picture was offensive.

"I was surprised that the police had acted on just one complaint," said Mr Cotter, who did the picture of Beckham himself and installed it just before Christmas.

"This is a piece of art. If there had been thousands of complaints like with Jonathan Ross and Russell Brand I could have understood it."

Mr Cotter later got a call from the police saying they no longer deemed the picture offensive.

But once word of the police visit spread, Mr Cotter's Facebook page was deluged with messages of support and talk of a campaign to keep the picture.
"I am relieved this has now rather petered out," said Mr Cotter.

"The picture has become a bit of a local landmark and we have had people stopping to take photographs of it."

The Beckham is called Let Me Listen to Me and Not to Them and was done by Mr Cotter to illustrate the dilemmas between lifestyle and life goals.
He was inspired after hearing that more people knew of the footballer than Jesus. The original art work was sold to Boy George.

The painting will come down later this week as Mr Cotter wants to use the space to publicise his Inferential Grin fringe festival to this summer's Folkestone Triennial.

Police spokesman Jon Green said: "We went there to investigate because we had received one complaint from someone who found the picture offensive.
"We spoke to the gallery owner but did not order him to remove the image.
"He told the officers it was coming down anyway.

"We can understand why some people might find it offensive but no offences have been committed and police action is not appropriate."
uE06E Russian link to fringe festival – page 12