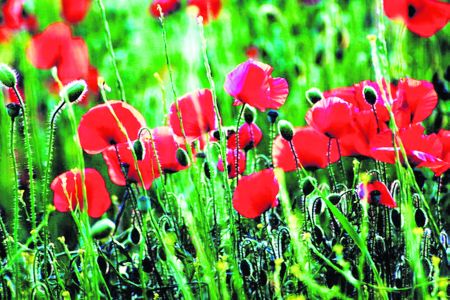 by Lizzie Massey
One million poppy seeds are to be sown all over Dartford to mark the 100th anniversary of the start of the First World War.
Greenhithe's Royal British Legion branch came up with the idea to plant poppies all over the UK and Ireland for the anniversary in 2014.
At a memorial service in Stone today, Dartford council will present the RBL with a cheque for £1,000 in exchange for one million poppy seeds for the borough.
Cllr David Mote (Con), who represents Greenhithe, said: "We wanted to use this Remembrance to promote the campaign.
"We will be planting the seeds in Central Park and handing them out to schools for the children to get involved as well."
Greenhithe RBL chairman Phil Berry is also keen to get schools, cadet forces, Cub and Scout groups, and other youth organisations involved.
---
---
He said: "We would like to see the UK covered in real Flanders poppies during August 2014 and we are very grateful to our local borough councillors for persuading the council to support us.
"Central Park is a perfect place for our poppy planting initiative and we hope it will encourage others to help plant Dartford red."
It is hoped that the initiative will spread all over the UK and more than 5,000 members of the RBL Riders' Branch have agreed to distribute the seeds and plant them all over the country for people who may be unable to do so themselves.
Graham Mentor-Morris is also a committee member for the Real Poppy campaign, as well as being involved with Greenhithe RBL and the RBL Riders.
He said: "It started as a small idea between some guys in the club, but we hope that by 2014 the country will be blanketed in red.
"It's taken us a while to get to this stage, in fact for the first few weeks we had been counting out the seeds individually by hand in 1,000, 5,000 and 10,000 packets.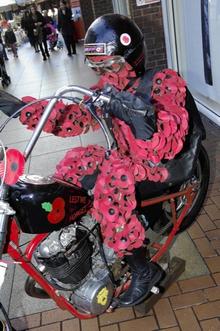 "Then we realised we could just weigh the bags – we got the mickey taken for that.
"Now the idea that along every motorway and on every verge, roundabout, field and garden there will be thousands of red poppies growing doesn't seem so impossible."
Prime Minister David Cameron gave a special mention to the RBL in Greenhithe when he announced £50 million of funding to commemorate the centenary.
He said: "I think we should make this centenary a truly national moment, but also something that actually means something in every locality in our country."
Meanwhile, in Gravesend, a dummy covered in more than 1,000 poppies (pictured right) will visit a Remembrance Service on the back of a motorbike today.
The flowered mannequin, known as Pops, will be driven to Gravesend's war memorial on Windmill Hill. Pops was created last summer by RBL member Andrea (Andy) Armitage.
She died in December aged 60 after suffering a heart attack in her sleep, just weeks after helping co-ordinate the borough's most successful Poppy Appeal which raised more than £42,000.