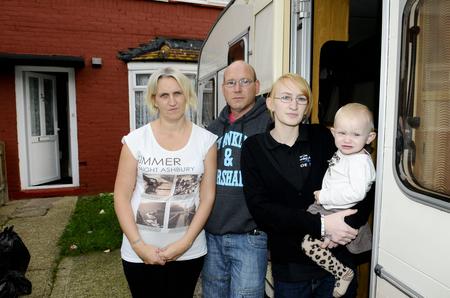 The Hayward family are living in a caravan because of rats in their home in Quarry Road, Maidstone
by Anna White
A family will have to leave their house for exterminators to finally evict rats - who have been unwanted house guests for the past seven years.
Alex Hayward and his wife Donna have endured more than 80 months of listening to rodents scurry across their floorboards, clearing up droppings and stomaching the disgusting stench of their dead bodies.
They have repeatedly complained to Golding Homes about the problem at their home in Quarry Road, Maidstone.
Work has been carried out on several occasions to stop the rats from entering
"'they had put talcum powder down to prove the rats were there..." – alex hayward
the property, but the creatures have gnawed through every solution.
In November 2011, things became so bad the family had to seek refuge in a caravan on their driveway because of the rats.
Mr Hayward, 40, who has been signed off work with depression because of the ordeal, said: "It's just beyond a joke now. I've been arguing with Golding Homes for years and years and they have never treated it as serious.
"At times I've felt like they haven't believed me as they had put talcum powder down to prove the rats were there."
The final straw for the dad-of-five was last week when he pulled out three dead rats from under the living room floor.
After ripping up the floorboards, he went to the housing provider's offices and refused to move until a worker was sent to relay the floorboards.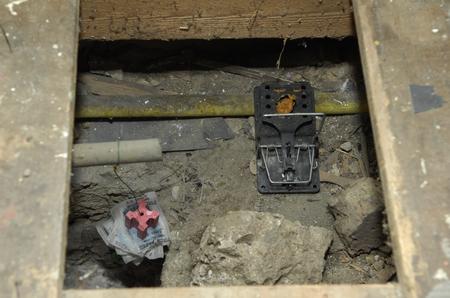 Jillie Smithies, Golding Homes' director of operations, said: "We are working with Mr Hayward and his family to resolve this problem as quickly as possible, and have offered them a temporary home while we carry out the necessary investigations and remedial work to their property."
The couple live with their children one-year-old Ruby, Daisy, nine, Jessica, 13 and MaCcauley, 17.
Their eldest child, Easha, 19, moved out as she could no longer cope with the unwanted guests. They have been offered a place in Coxheath.
Have you had problems with rats in your home? Join the debate below.