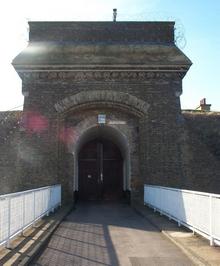 by Graham Tutthill
Staff at the Dover Immigration Removal Centre provide a reasonably safe environment but need to improve support to detainees in preparation for removal, release or transfer.
That's the finding of chief inspector of prisons Nick Hardwick in a report on an announced inspection of the centre in Dover.
At its last inspection, there was concern that Dover was developing too much of a prison-like culture.
Inspectors were glad to find that this was not the case in general, except for unnecessary amounts of razor wire within the perimeter.
Inspectors also found that self-harm was low and the use of force and separation had reduced.
Dover provided a range of work and education opportunities, although they were poorly coordinated and there was not enough activity for the significant numbers of detainees who stayed at the centre for long periods.
Mr Hardwick said: "The main safety concern for detainees, as in other IRCs, was their anxiety about their immigration cases."
Inspectors were concerned to find that on-site UK Border Agency induction interviews were poor and reviews of detention were uninformative and sometimes late.
Mr Hardwick said: "Dover holds a large proportion of ex-prisoners in a rather forbidding site. It was, nevertheless, providing a reasonably safe and decent environment and a range of activities for detainees, a third of whom spent over four months there."
He said there were two main issues that needed to be addressed. One, for the Prison Service, was the absence of internet and email access and of sufficient coordinated welfare support, to help with practical problems and prepare detainees for release or removal.
The other, for UKBA, was the poor quality of on-site information for and response to, detainees who were extremely concerned about the progress of their cases.
The Refugee Council has welcomed the Chief Inspector of Prisons inspection report on Dover Immigration Removal Centre, and has said detention should be used as a last resort.
Donna Covey, Chief Executive of the Refugee Council, said: "This welcome report is further evidence that asylum seekers in detention are being denied access to justice.
"Without legal advice and access to information to help inform them of their situation, how can detainees know if their case is progressing, and be sure of what their rights are?
"It is unacceptable that some people at Dover IRC have been in detention for over four years with no prospect of being removed due to poor management of their cases.
"Where detention is used, it must only be used as a last resort, and for the shortest time possible."