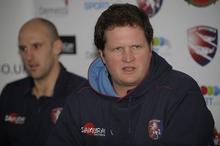 by Alex Hoad
Rob Key said the reason he has decided to hand over the Kent captaincy after seven seasons is that it has left him 'worn out.'
The 33-year-old was the longest-serving First Class captain in the country and the longest Kent skipper in the professional era but stepped aside on Monday with James Tredwell taking over at the helm.
Key (pictured with Tredwell next to him at Monday's handover) explained: "I feel that now is the right time. I'm in danger possibly, if I continue, of not enjoying cricket as much as I could.
"At the end of the summer if you'd asked me if I wanted to continue doing it I'd have had no hesitation - it would have been a no. I was worn out from it really.
"It's time to concentrate on myself and get back to really playing cricket. I enjoy playing cricket here at Kent but it takes a lot out of you being captain.
"I was very proud to do it. I've done it for a long time."
Key revealed he was looking forward to the start of next season but admitted: "It's going to be very different for me.
"I'm looking forward to turning up to practice and just thinking about myself.
"I'll be here to help, or do nothing, whatever Treddy wants. We'll sit down and have a chat. If he wants no advice or if he wants advice, I'll do whatever he wants."
He added: "I like to think I've left the job with the respect of the dressing room and in a decent place where someone's got a decent chance to take it forward.
"On the cricket side things are starting to move forward - I think it's going in the right direction and I'm sure with Treddy it will continue to do that."
How do you think Key's captaincy will be remembered? Have your say below.