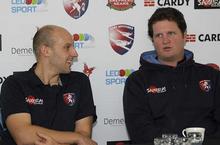 by Alex Hoad
Rob Key hopes removing the burden of the Kent captaincy will help him return to being one of the most prolific run-scorers in county cricket.
Key was visibly relaxed after passing the baton on to James Tredwell on Monday and immediately targeted a return to the prolific form which proceeded his seven-year tenure as captain.
The 33-year-old admitted the captaincy had probably hindered his chances of adding to his 15 Test and five ODI appearances for England but revealed he had not given up hope of a Test recall.
He said: "I took the job on because I wanted to enhance my England chances. At times it did – at one stage people were talking about me as a possible England captain – but one disappointment is I was never really able to play as well as I was before I became captain.
"With a bit of luck, good weather and good pitches, hopefully I can go back to being one of the top run-scorers in the
country.
"I should be going on to maximise my experience now.
"I'll never give up on (a Test recall) but it might be a long shot."
Key revealed he was excited about his future and remained passionate about Kent cricket but was relieved to be stepping down. He said: "At the end of the summer I'd had enough really and I was at the point where I wanted to concentrate on my own game."
Key backed Tredwell to succeed in the role and said: "Now's not a bad time to be handing it over. Jimmy's been in the job a year and is clear about the way he wants to go.
"Right from the start I realised he had a good cricket brain. He will get the important decisions right more often than not."
Key revealed one of his biggest regrets as captain was his handling of the departure of close friend Matt Walker in 2008, adding: "That was hard to deal with and I could have done better."