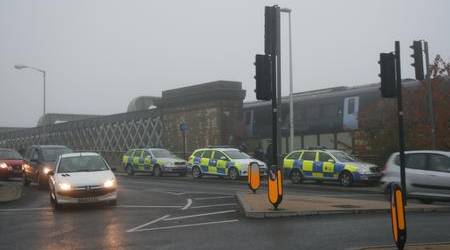 Police at Rochester railway bridge after a man threatened to jump
by Lynn Cox
A man has threatened to jump off Rochester railway bridge this morning.
The 31-year-old was discovered on the bridge at shortly before 5am and police and Medway's coastguard team were sent to he scene.
The incident caused London-bound trains to be delayed while police talked the man into coming down.
Shortly after 8am, he was talked down and train services soon resumed.
A Medway Police spokesman said: "Police were called just before 5am on to a report of concern for a man on Rochester Bridge.
"The man was on the wrong side of the railings on the railway bridge.
"A negotiator spoke to the man and he moved to the correct side of the railings. The man has been taken to hospital.
"British Transport Police also attended."