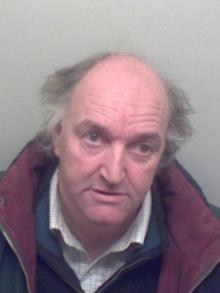 by Keith Hunt
A sex fiend who abducted and molested a young girl has been locked up indefinitely for public protection.
Nigel Farrant will have to serve five years behind bars before the parole board considers his release.
A judge told the 51-year-old pervert, who in 1987 was jailed for six years for sex offences with a girl of the same age, he was satisfied he was a continuing danger.
Farrant, of Hoopers Road, Rochester, denied kidnap, sexual assault and causing a child to engage in sexual activity, but was convicted last month.
Maidstone Crown Court heard how he stalked his terrified victim, aged nine, and stuffed a paper towel in her mouth before assaulting her.
When arrested, married Farrant had a list of schools in his pocket.
He told the jury he lived "two seconds away" from a school.
The victim had told a support worker at her school about Farrant, who rode around on a bicycle.
She eventually described him carrying her off into woods and making her strip naked.
He thrust a paper towel in her mouth to stop her screaming and molested her and made her touch him. She eventually managed to escape.
Harriet Bathurst-Norman, defending, submitted Judge Martin Joy was "starting too high" in stating he would either pass imprisonment for public protection or a determinate sentence in double figures.
"It was plainly terrifying but relatively short-lived," she said. "The defendant continues to deny the allegations. On her evidence, it was a very frightening episode.
"He had her on her own having spirited her away. He could have done worse. It is relevant he didn't take matters further."
Miss Bathurst-Norman added Farrant had stayed out of trouble for 23 years.
Judge Joy told Farrant on Thursday: "I am satisfied you have a tendency to commit sexual offences against young girls. That is demonstrated by your convictions.
"I bear in mind they relate to offences many years ago. However, I have heard evidence and come to the conclusion that the tendency remains."
The judge added that if he had imposed a determinate sentence it would have been one of 10 years imprisonment.
Eight months spent on remand will count towards the indeterminate term.
Judge Joy said Farrant would only be released when the authorities were satisfied he no longer posed a risk.