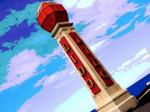 A teenage girl was taken to hospital after falling through the roof of a derelict building.
The accident happened at the Lido in Cliftonville, near Margate. The girl fell through the roof at a part of the site which is now derelict.
Police were called at 10.45pm on Saturday and the girl was taken to the William Harvey hospital in Ashford with a fractured pelvis and wrist.
Fire crews also attended and assisted ambulance crews in delivering first aid.