Bins costing £1,500 each - and more than £4,000 spent on a bench!
That is how the costs for the shared space 'street furniture' have added up.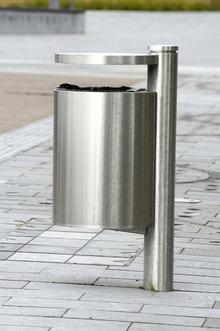 Now one council chief has admitted too much was spent on the pioneering Ashford ring road scheme.
Cllr Keith Ferrrin, KCC cabinet member for highways, was responding to details of costs, obtained under Freedom of Information by the Kentish Express, showing how the £15.9m budget was spent.
It reveals how stainless steel rubbish bins cost £1,500 each, cycle racks nearly £400 each and the designer of controversial lamp-posts charged a fee of more than £20,000.
Cllr Ferrin (Con), below, said: "My own view is that all this stuff has cost a fortune and it is not justified and should not have happened. If I had been involved earlier, then I would have moved to stop some of this happening.
"I do not think these prices were justified and I am not one of those who believes they had to be paid for the scheme."
We revealed earlier this year how streetlights in the shared space area cost £7,000 each – seven times more than a conventional lamppost.
The figures show the rubbish bins are not the only feature of the ring road revamp that cost a four-figure sum.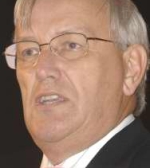 The same company that provided the bins also provided the wooden and steel benches, like the ones off Bank Street.
Pause for a rest on one of these and you will be sitting on a piece of street furniture that cost an eye-watering £1,870.
But even that was dwarfed by the £4,100 spent on a prototype timber and stone bench, which can now be seen at Forge Lane.
More than £31,000 was spent on the 36 wooden bollards that can be seen along Elwick Road by the entrance to Debenhams and at other entrances to County Square, an average of £700 each.
A further £5,953 was spent on the granite benches along Bank Street.
For a special report, including the full 'shopping list', see our exclusive report in this week's Kentish Express