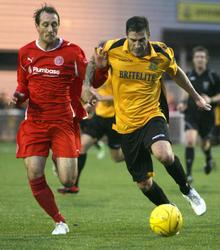 Maidstone pulled back a 2-0 deficit to earn a point against Worthing at the Gallagher Stadium on Saturday.
On a day when all the other games in the three Ryman League divisions fell victim to the weather, Maidstone were in the end relieved to get the draw and extend their lead at the top of Division 1 South to two points.
Stones made the worst possible start, going 1-0 behind after just three minutes when Jamie Brotherton reacted quickest in the box to divert a corner into the net.
The West Sussex side increased their lead in the 55th minute when Matt Daniel tapped the ball home.
Maidstone, however, responded with goals from Stuart King and substitute Tony Olorunda. King made it 2-1 with a lob over the keeper in the 69th minute, and with just five minutes left, Olorunda struck from inside the box.