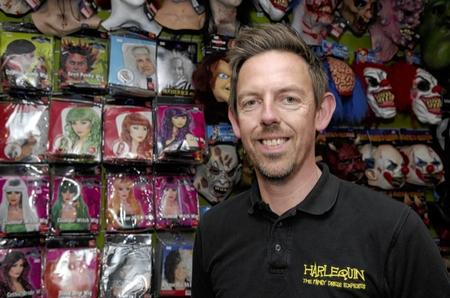 by Andy Gray

A fancy dress shop has had a surprise sell-out... of Jimmy Savile costumes!
The trademark apparel of Jimmy Savile has flown off the shelves at Maidstone's biggest costume shop as revellers make themselves up like the disgraced former BBC presenter and DJ.
Justin Attwell, 41, who runs Harlequin Fancy Dress Shop in Brewer Street, said he's been inundated with customers hoping to get their hands on a replica Savile tracksuit and vest.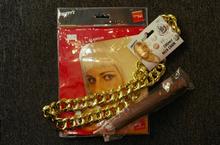 When told the shop no longer stocks the item, people have been snapping up novelty wigs, glasses, cigars and jewellery in ironic homage to the former star who it's claimed could be one of Britain's worst sex offenders.
Mr Attwell said: "As soon as the Savile controversy hit we pretty much sold out of everything we had relating to him.
"We were pleased because we didn't want to stock it anymore, but since then we've had up to 10 people a day asking for his costume."
Detectives are following 400 lines of inquiry as part of an investigation into sex abuse claims against Savile, who died last year.
Harlequin's Savile-based stock, which consisted of four £15 kits containing a wig, glasses, medallion and cigar and two £40 tracksuit costumes, sold out as soon as the claims were made public earlier this month.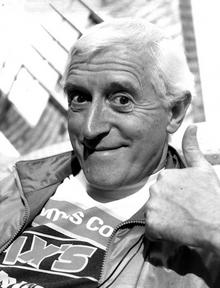 Before the scandal broke, Mr Attwell said he couldn't shift the outfits which were endorsed by the disgraced former Top of the Pops and Jim'll Fix It presenter.
He said: "We were going to make them half price but they were gone before we had the chance."
Despite no longer stocking the costumes, Mr Attwell said he's been berated by members of the public for "profiting" from the revelations.
One anonymous email called him "disgusting" for selling the Savile gear, while a Facebook posting said: "I can't believe you're selling Savile costumes.
"I hope he rots in hell."
Mr Attwell, who has run Harlequin for 15 years, said it's men "aged 25 to 60" who are shopping for all-things Savile.
He said: "It's very rare blokes buy blonde wigs so it's obvious what they're doing.
"But we're very busy and don't have time to ask why they're doing it."
Smiffy's, a nationwide fancy dress company which supplies Harlequin, confirmed it no longer stocks Jimmy Savile costumes.