by Andy Gray
This is the moment a brave schoolboy stepped in during a "frightening" fracas at a shopping centre that saw a police officer and security staff injured.
Jack Slater, 14, has been praised for jumping into the melee at The Mall Chequers in Maidstone to protect a member of security as horrified shoppers looked on.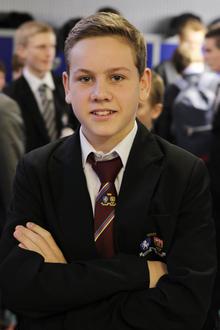 Trouble flared just before the town's Christmas lights switch-on last Thursday.
Jack, an Oakwood Park Grammar pupil and pictured left, said: "The security guards were getting flung around a bit and one of them looked like he was getting overcome. I ran over and grabbed the shoulders of the person he was struggling with and pulled him away."
The youngster, from Boughton Monchelsea, added: "I've never done anything like this before and it was only afterwards I thought, 'I could've been hurt there'.
"My friend tried to stop me and said I was stupid for getting involved but it was a spur of the moment thing."
His intervention, and a pal trying to pull him back from the fray, was captured on CCTV.
A group of men were reportedly being ejected from the shopping centre by security staff.
Three security guards suffered minor injuries, including a bite mark. A police officer also received a minor injury.
Afterwards, a member of security staff alerted Mall Chequers manager Paul Alcock to Jack's courageous actions.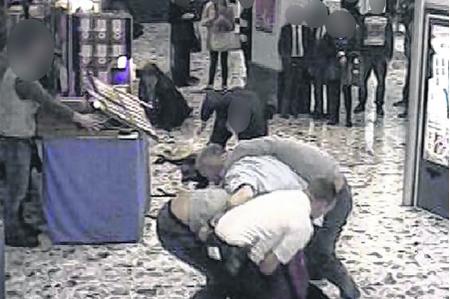 Mr Alcock used CCTV footage to identify him from his school uniform. He visited Oakwood Park Grammar last Friday to formally thank Jack.
He said: "I couldn't believe a young lad wanted to go and help our guys.
"There were lots of people watching what was a frightening situation but he was the only one who tried to stop it."
Jack was given £50 in Mall shopping vouchers as a reward.
The modest youngster said he would not hesitate to help again – which will not go down well with mum Michelle.
Mrs Slater, 42, said: "I told him off at the time for getting involved, but I'm very proud of him.
"He won't do anything like that again... hopefully."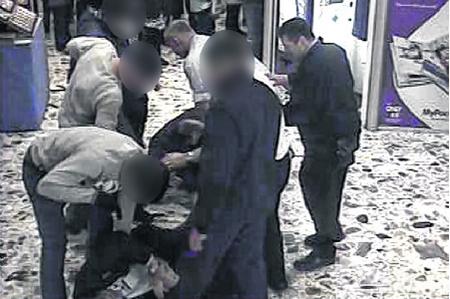 Kent Police advise against bystanders taking matters into their own hands if they see an offence taking place.
A spokesman said: "Rather than get involved they should call police on 999."
Police have launched an appeal for witnesses to the Mall Chequers brawl.
PC Alan Weller said: "The shopping centre was very busy and a number of people would have seen the incident."
Anyone with any information should contact PC Weller via Kent Police on 101.
An 18-year-old man from Bobbing and two men aged 19 and 21 from Sheerness were arrested on suspicion of assault in connection with the Mall Chequers incident.
A 20-year-old from Sheerness was also arrested on suspicion of obstructing a police constable. All four were released on police bail until December 20 pending further investigations.